If the method of compensation is a product or access to a service, you will usually receive it upfront (subject to the terms of the agreement with the brand). If your method of compensation is cash, you should receive it approximately 15 days after the transaction has been marked as Completed by the brand (after fulfilling your end of the agreement).
All cash transactions facilitated through Intellifluence Payments are backed by The Intellifluence Promise. Look for The Intellifluence Promise seal within the message thread.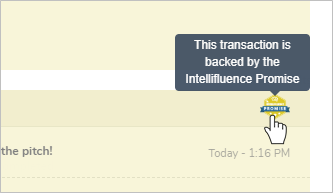 If there are any issues, contact us and we will work to ensure you are compensated per the terms of the transaction you have agreed to.
Note: We are not responsible for lost funds due to incorrect PayPal e-mail addresses. Make sure you always have your correct PayPal e-mail address within your influencer account.