This is completely up to you. Only accept a pitch if you are willing to complete all that is required of you based on the accompanying terms.
Be sure to carefully review this information before accepting a pitch. Also, per our Terms of Service, you (and brands) agree to adhere to all applicable laws where you reside. Please note, we prohibit transactions involving drugs (legal or illegal), controlled substances and drug paraphernalia. If you receive a pitch that includes any of these, please flag the transaction for review.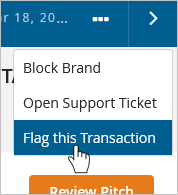 If you decide to flag a transaction, the process is simple: within the message panel of the appropriate transaction, you can click the menu options icon in the top right corner then in the dropdown, click Flag this Transaction.
Appropriate reasons for flagging a transaction include, requesting help to get any party to comply with the terms of your agreement, bringing to our attention any party that has acted in a non-professional manner, or bringing to our attention any content that doesn't comply with our terms and conditions.