If you have joined as a Talent Manager, you can either invite existing Intellifluence Influencers to join your Agency or you can invite Influencers to join the Intellifluence community (and your Agency).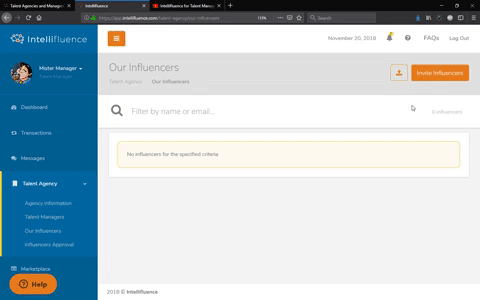 To add brand new Influencers (who do not already exist in the Intellifluence system):
From your dashboard, click Talent Agency on the left menu, then click Our Influencers
Click the Invite Influencers button in the top right corner and type in their e-mail where prompted. Invite multiple Influencers at once by separating their e-mail addresses with a comma. Once you have finished this, each Influencer you have invited will receive an e-mail with all of the necessary information to join for free.
To add existing Influencers:
Click on your name in the top left menu then click My Account.
Find the unique code found under Talent Agency Information.
At this point, you can either send the Influencer the unique code or if you have access to the account and are authorized to do so, you can follow these instructions:
Log into the existing Influencer account
Click the Influencer's name in the top left menu and click My Account.
Click Edit in the top right corner then scroll down to the Talent Agency Information section. Click Select an Existing Talent Agency and enter the code. The Talent Agency information should populate and you can click Save.
Please note: Influencers can also create a Talent Agency from their accounts.