Within the My Account screen, you will see a menu item called Two Factor Authentication (2FA) in the General section.
Simply put, 2FA adds a layer of security while logging into your Intellifluence account. Rather than simply entering a password, you will utilize a third-party authentication app which will send you a custom code to enter upon logging in.
What's the benefit? If someone were to learn your password, they would be unable to access your account with that password alone.
In order to utilize 2FA, you will need a valid third-party 2FA app. While we are not affiliated with any 2FA app (nor do we recommend one in particular), these are some of the more popular 2FA apps available:
Google Authenticator iOS | Google Play
LastPass Authenticator iOS | Google Play
Microsoft Authenticator iOS | Google Play
Authy iOS | Google Play
To add 2FA to your account:
1. Navigate to My Account
2. Under the General section, click Two Factor Authentication (2FA), read the details regarding how to implement 2FA. If you want to continue with setting up 2FA, click I have a 2FA app on my phone and wish to use it every time I want to log in to Intellifluence.
3. Click the orange Enable button.
4. You will see the warning: Are you sure you want to enable 2FA? If you do not complete the steps following this warning you will be unable to log in again. At this point, you have the option to click Cancel if you do not want to proceed.
5. If you want to proceed, click OK and you will see this popup: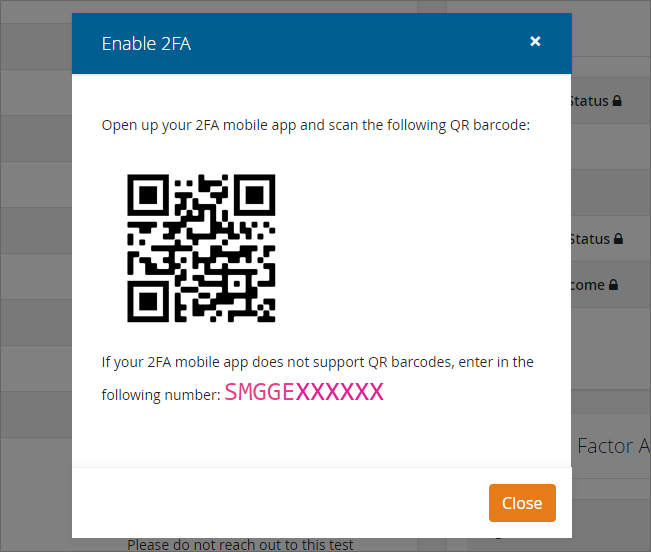 6. Open your 2FA mobile app, scan the QR code or enter the unique number provided
That's it! Once you've completed that step through your 2FA app, it will be functional on your account.
If you ever want to remove 2FA, simply navigate back to the My Account screen and click Two Factor Authentication (2FA), then click the yellow Disable button. You will receive the confirmation that 2FA has been removed.