If you encounter an issue with an influencer's profile:
1. Click the Actions button within the influencer's profile
2. Click Report Issue
3. Select the issue within the What type of issue would you like to report? dropdown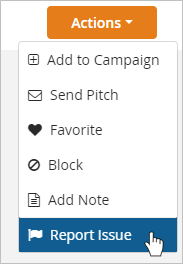 You have the option of reporting:
Issue with a social account (broken link, wrong follower count, etc.)
This influencer doesn't own claimed social account(s)
Needs a NSFW warning
Illegal (or used without permission) content/images
Other
If you select Other, please be sure to specify the reason (for example, you suspect the influencer is misrepresenting their country of residence, you suspect it's a fraudulent account, etc.)
Upon reporting an issue, Intellifluence Support will examine the issue and take action if necessary.