If you don't want an influencer to be able to see any future offers or contact you*, you have the ability to add influencers to your Block list. To "block an influencer": within the message tab of the appropriate transaction, you can click the transaction options menu icon (‧‧‧) then click Block Influencer.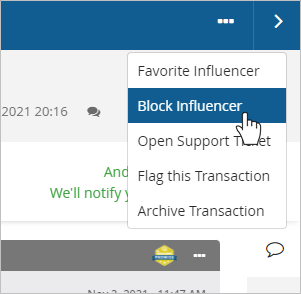 Alternatively, you can also click the Actions button on the influencer's profile, then click Block: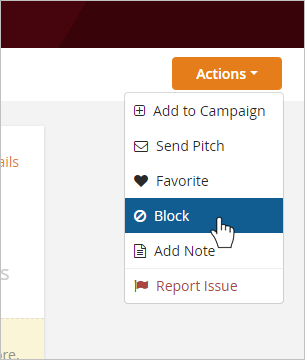 You can also block an influencer by clicking the 🛇 Block Influencer menu option on the influencer's card within Discover: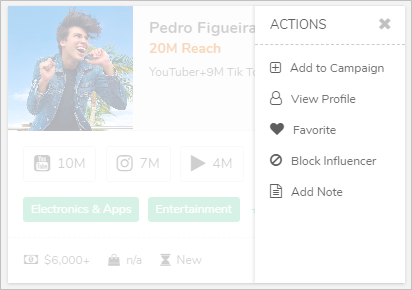 You can add a note for your reference when blocking an influencer. Once an influencer has been blocked, they are added to your Blocklist. Within your Blocklist, you will see the complete list of influencers that have been blocked, the user(s) on your account that blocked them, and any notes.
You can remove an influencer from your Blocklist at any time by clicking x.
*When blocking an influencer, keep in mind that any active transactions will still need to be concluded, if applicable. Blocking an influencer will restrict the influencer from seeing new offers you create or contacting you in the future regarding a new offer (blocked influencers will still be able to correspond with you in any current transactions they are involved in).
If an influencer is engaging in any antisocial or abusive behavior, please flag the applicable transaction or contact support.