When you go through the campaign creation wizard, you will have the option to pitch pre-selected influencers that meet the criteria you set.
Within Discover, find the influencer you would like to pitch, then click Add to Campaign, or you can pitch the influencer directly by hovering over the top right corner of the influencer's card and clicking the actions icon, then Send Pitch.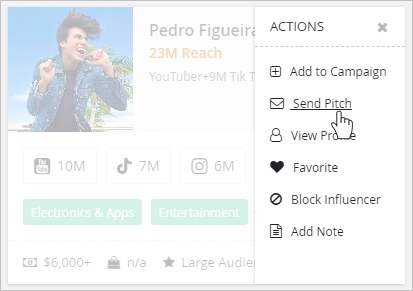 From the campaign view, find the influencer within the list then click Send Pitch.
Note: If offering cash compensation, you need to pre-fund your campaign. Learn how to do this here.
For some valuable tips that can help you create better pitches, be sure to watch this video: