If you would like to keep track of your favorite influencers, you have the ability to add influencers to your Favorites list. To "favorite an influencer", click the ♥ icon at the top of the applicable transaction message thread:

Alternatively, you can also click the Favorite button on the influencer's profile:

You can also favorite an influencer by clicking the ♥ Favorite menu option on the influencer's card within Discover: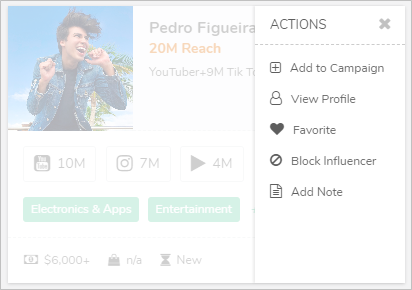 From My Account, you will be able to access your Favorites list to easily reengage with the influencers you love! You can remove an influencer from your Favorites list by clicking x.