When the due date of a transaction passes without work posted, the transaction will automatically be flagged by SallyBot, our support bot. Note, this is an automated process (not performed by one of our human team members).
In this scenario, you will receive a notification and see a message in the applicable transaction thread such as: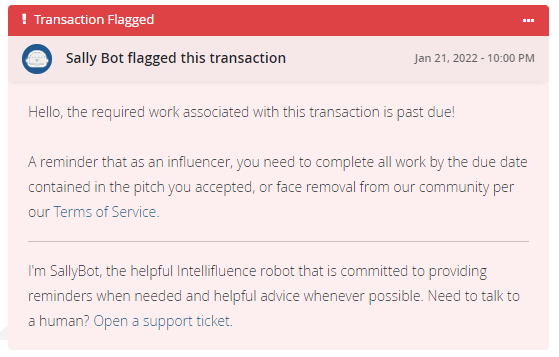 This means you need to complete any outstanding work as soon as possible, mark as posted within in the transaction thread and provide the link(s) to the work, per the pitch requirements.
If you fulfill the required work in a timely manner:
1. The automated flag will be resolved and no further action will be taken on your account.
2. There will be no flags, violations (or strikes) listed on your account or influencer profile page.
If no action is taken once the transaction is flagged, your account will be locked after 7 days. If your account is locked, you cannot apply to any additional campaigns until the particular issue has been rectified in your existing transaction(s). If there are multiple issues, they must be rectified before your account is unlocked.
After 14 days from the initial automated flag, your account will be deactivated due to violating our Terms of Service.
If you have questions about why your transaction was flagged or want to discuss the situation with an Admin, contact support here.
In the future, you have the option to request a due date extension from the brand within 7 days before the due date.
Important: Influencers must abide by the terms of the agreement as stated in our Terms of Service. If you have any questions for the brand, please promptly respond in the applicable message thread.