You have the ability to re-hire an influencer upon completing a transaction with them.
To re-hire an influencer:
1. Click the Actions button in the completed transaction message thread of the influencer you want to rehire.
2. Click Re-Hire in the dropdown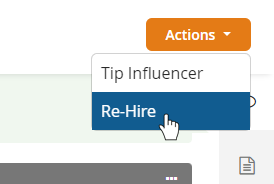 3. The campaign pitch modal will appear and you can send a new pitch as usual
Note: The pitch must adhere to the goal you have set for the campaign. If you want work completed on a different social network type, you will have to create a new campaign or use Influencer Offers.
The new transaction will display with a (Re-Hire) label next to the influencer's name: