Once you have marked a transaction as completed, you have the ability to tip the influencer that completed the work within 14 days of the transaction being marked as completed. To tip the influencer:
1. Access the message thread of the applicable transaction.
2. Click Tip Influencer.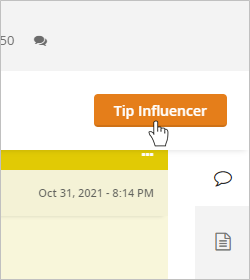 3. Fill out the Tip Influencer details. Note: a 10% Intellifluence Payments fee applied to tips, as with regular transaction cash compensation to Influencers. Click Send Tip.