When you set up Auto-Pitching, our system will automatically send pitches to opportunities within your campaign, based on your Auto-Pitching criteria. This will save you time and effort.
To set up auto pitching:
1. access the specific campaign and click Setup Auto-Pitching.
Note: In order to automatically pitch influencers, you must add influencers to your campaign. Once you have done this, the influencer(s) will be in the Opportunities status (which qualifies them to be automatically pitched).

2. Enter the number of Active Pitches you will allow. This sets the maximum number of pitches SallyBot can have active at one time. This number does not take your pitches into account; her pitch count is separate.
3. Set a Pitch Expiration timeframe. This determines how long your pitch will remain active for the influencer to accept before expiring.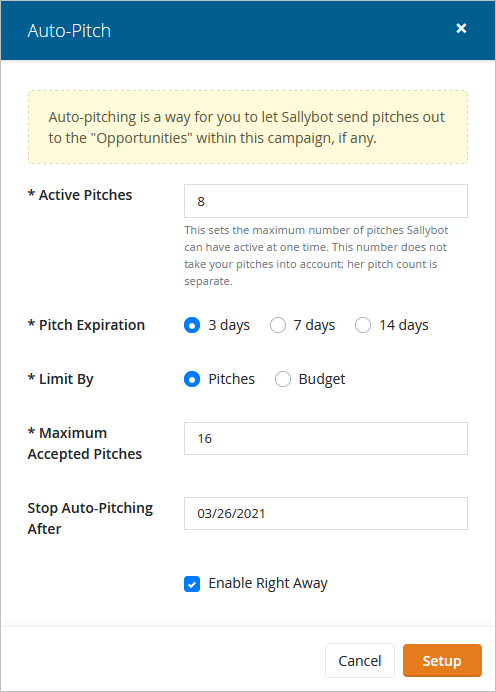 4. Select whether you want to limit Auto-Pitching based on the numerical number of maximum accepted pitches (3, 10, 29, etc) or a specific budget (not to exceed your available Intellifluence Payments account balance).
5. Select a date in which Auto-Pitching will end
6. Select if you would like to enable auto pitching right away (optional)
7. Click Setup