When creating (or editing) a campaign, brands have the option to designate a campaign for "adults only" if it involves sensitive materials or products only suitable for adults. In this case, the campaign will only display to influencers who are 21 years of age or older and have opted into seeing these types of campaigns and offers.

When setting up (or editing) a campaign, check the box "This campaign contains sensitive material or products only suitable for adults", then choose the applicable Marketplace visibility Option and save the campaign: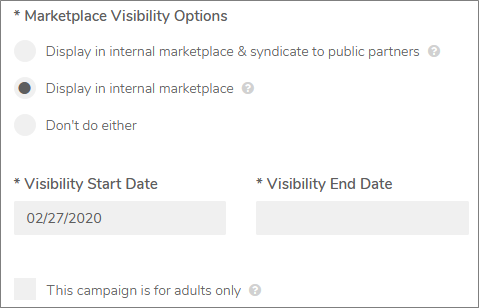 Please keep in mind you must adhere to the laws associated within your specific jurisdiction, as well as the Intellifluence Terms of Service at all times, which states:
As a condition of your use of the Site, you must adhere to all applicable laws in your jurisdiction. By participating in transactions involving alcoholic beverages and products, you swear and affirm and represent to us that you are over the legal age required to purchase alcoholic beverages in your jurisdiction and we will rely on the information you provide to us because if we are held liable for any reason if that is not true, you agree to indemnify us and/or reimburse us and be responsible for all costs, expenses (including legal fees) and damages we suffer or incur. We prohibit transactions involving drugs (legal or illegal), controlled substances and drug paraphernalia.